DMK Chief and Tamil Nadu Chief Minister MK Stalin, who was at the launch of the celebrations to commemorate the 200th birth anniversary of Ramalinga Adigal or Vallalar, a prominent Tamil saint, said, "There is an organised campaign running online to portray the Dravidian model of governance as one against spirituality and belief and that Dravidian model is not against spirituality or belief."
But there is no need for any organized campaign. The words uttered and the behaviour of DMK leaders show the inherent anti-Hindu mindset.
By vulgarly describing Hindu rituals in marriage at an Islamic event, failing to take action against his MPs who insult Hindu sentiments and rituals, remaining silent about those who offend the Hindu faith, rewarding them in recent appointments, and forging relationships with Christian pastors who offend the Hindu faith, the DMK demonstrates that the party is anti-Hindu.
It is well known fact that the Dravidian Stockists control the mainstream media and Tamil cinema. As a result, these anti-Hindu activities are either glorified or overlooked by the torchbearers in these mediums. Which is why MK Stalin mentions "ONLINE" when referring to people spreading "misinformation" about the DMK while they're just exposing the anti-Hinduness that is inherent.
DMK's visceral hatred for Hindus stems from its parent organisation, the Dravidar Kazhagam (DK), established by rabid anti-Hindu EV Ramasamy Naicker.
Words won't suffice to fully expose the anti-Hindu venom spewed by DK, DMK and fellow Dravidian Stockists on a daily basis. In this article, an effort has been made to educate readers about the recent anti-Hindu words and deeds so that it stands as evidence for CM Stalin to introspect his statement.
The following is a list of anti-Hindu activities carried out by the DMK and its supporters.
DMK MP A. Raja's Continuous Anti-Hindu Tirade
On September 7, 2022, while addressing an event organized by Dravida Kazhagam, DMK MP A. Raja abused Hindus and the Hindu faith saying all Shudras are children of prostitutes and they will remain so until they remain in Hinduism.
Defending the foul-mouthed DMK MP, former Rajya Sabha MP and a senior leader of the DMK TKS Elangovan said that the "entry of Hinduism" has spoilt Tamil Nadu.
This is not the first time DMK MP A Raja who is also the Deputy General Secretary of the party has made comments disrespecting Hindu identities and the Hindu faith. There have been multiple instances where he has abused Hindus and Hindu Gods.
Earlier, the former Union Minister of the Congress-led UPA government had stirred a controversy saying, "I threw away all holy ashes (Vibuthi) and I also placed a elephant cracker below Ganesha's statue, and it exploded,".
DMK Govt Banned Dharmapuram Aadheenam's Patttinapravesam
Pandering to the rabid anti-Hindu outfits like Dravida Kazhagam, the MK Stalin-led DMK Government in Tamil Nadu banned the age-old Pattina Pravesam ceremony of the Dharmapuram Adheenam.
Pattina Pravesam ceremony is a tradition where Hindu devotees carry the seer of the Dharmapuram Adheenam in a palanquin.
After opposition from Hindu organizations and the BJP, the DMK had to reverse the ban.
Demolition Of Temples In The Name Of Clearing Encroachments
Several temples have been razed down under the garb of 'clearing encroachments' pinnning it on the High Court.
In January 2022, an Anjaneya temple in Varadharajapuram, Mudichur, in the Kancheepuram district, was ordered to be demolished despite heavy opposition from local residents and devotees.
The Vasudevar Temple in Sulur, Coimbatore, has been demolished.
Seven temples have been demolished in Kumarasamy Nagar, Coimbatore. One of the temples is said to be over one hundred years old.
A Sivan Temple in Sriperumbudur was demolished because it was built on government land.
https://twitter.com/Sevakofmata/status/1464301927936581633?ref_src=twsrc%5Etfw%7Ctwcamp%5Etweetembed%7Ctwterm%5E1464301927936581633%7Ctwgr%5Ef7497ba8afb38d5500f897bbefcbe8deb638dc40%7Ctwcon%5Es1_c10&ref_url=https%3A%2F%2Fthecommunemag.com%2Fmr-stalin-heres-why-the-dmk-is-anti-hindu%2F
On the other hand, the DMK government has turned a blind eye to encroachments made by other religious places. A church built by encroaching a water canal in Kilkattalai, Chennai has not been brought down despite the structure being marked in 2017.
Back in October 2021, the Madras High Court had directed the HR&CE Department to evict the Queensland amusement park from 21 acres of land in Poonamallee belonging to Kasi Viswanathaswami temple and Venugopalaswami temple.
The amusement park owner late 'Oorvasi' Selvaraj who also founded the King's Engineering College, was a former Congress MLA and his wife Nalini Selvaraj is today a prominent Christian evangelist.
Despite the Court's order, no action has been taken to evict the encroachers from the temple land.
The HR&CE department itself has been functioning inimical to the interests of temples and Hindu society. It has given permission for the construction of a fish market near the Kandasamy and Aadimottaiyamman temples in Chennai.
It has also proceeded with melting temple jewellery and convert them into gold biscuits for mortgaging them and raise funds for secular purposes.  The HR&CE department has also formed a committee to build 10 colleges using Hindu temple funds. The committee members include DMK MP Kanimozhi, an avowed atheist and Geetha Jeevan, Minister for Social Welfare and Women Empowerment, who is a Christian.
https://twitter.com/trramesh/status/1439842799252246532?ref_src=twsrc%5Etfw%7Ctwcamp%5Etweetembed%7Ctwterm%5E1439842799252246532%7Ctwgr%5Ef7497ba8afb38d5500f897bbefcbe8deb638dc40%7Ctwcon%5Es1_c10&ref_url=https%3A%2F%2Fthecommunemag.com%2Fmr-stalin-heres-why-the-dmk-is-anti-hindu%2F
DMK's Mouthpiece Threatening Madurai Adheenam Pontiff
Attacking the Madurai Adheenam, the DMK in its mouthpiece 'Murasoli' had issued threats to the Saivite Mutt pontiff Sri La Sri Harihara Sri Gnanasambanda Desika Swamigal and also called him a 'lunatic' in light of his comments against the ruling DMK regime.
"What happened to Chinnavaal (taking a sly dig at Brahmins), Jayendrar during Jayalalithaa regime? We hope that today's Madurai Adheenam remembers the incident when the 'Mahaguru' was made to count the jail bars. He was not just arrested and sent to jail. The many incidents that followed where his reputation was damaged, we hope the Madurai Adheenam realizes that. The Madurai Adheenam should not think that these incidents are being cited to threaten him". the DMK mouthpiece had written.
https://twitter.com/sundarrajachola/status/1535867779080810497?ref_src=twsrc%5Etfw%7Ctwcamp%5Etweetembed%7Ctwterm%5E1535867779080810497%7Ctwgr%5Ef7497ba8afb38d5500f897bbefcbe8deb638dc40%7Ctwcon%5Es1_c10&ref_url=https%3A%2F%2Fthecommunemag.com%2Fmr-stalin-heres-why-the-dmk-is-anti-hindu%2F
DMK MLA TRB Raja's Anti-Hindu Remarks
The son of DMK Lok Sabha MP T.R. Baalu, head of the DMK IT wing, and an MLA TRB Rajaa, posted a tweet with an image of freedom fighter Veer Savarkar on a black bird hitting the Hindu god Vishnu while riding a Garuda, painting Lord Vishnu and Veer Savarkar in a bad light.
He later deleted the tweet.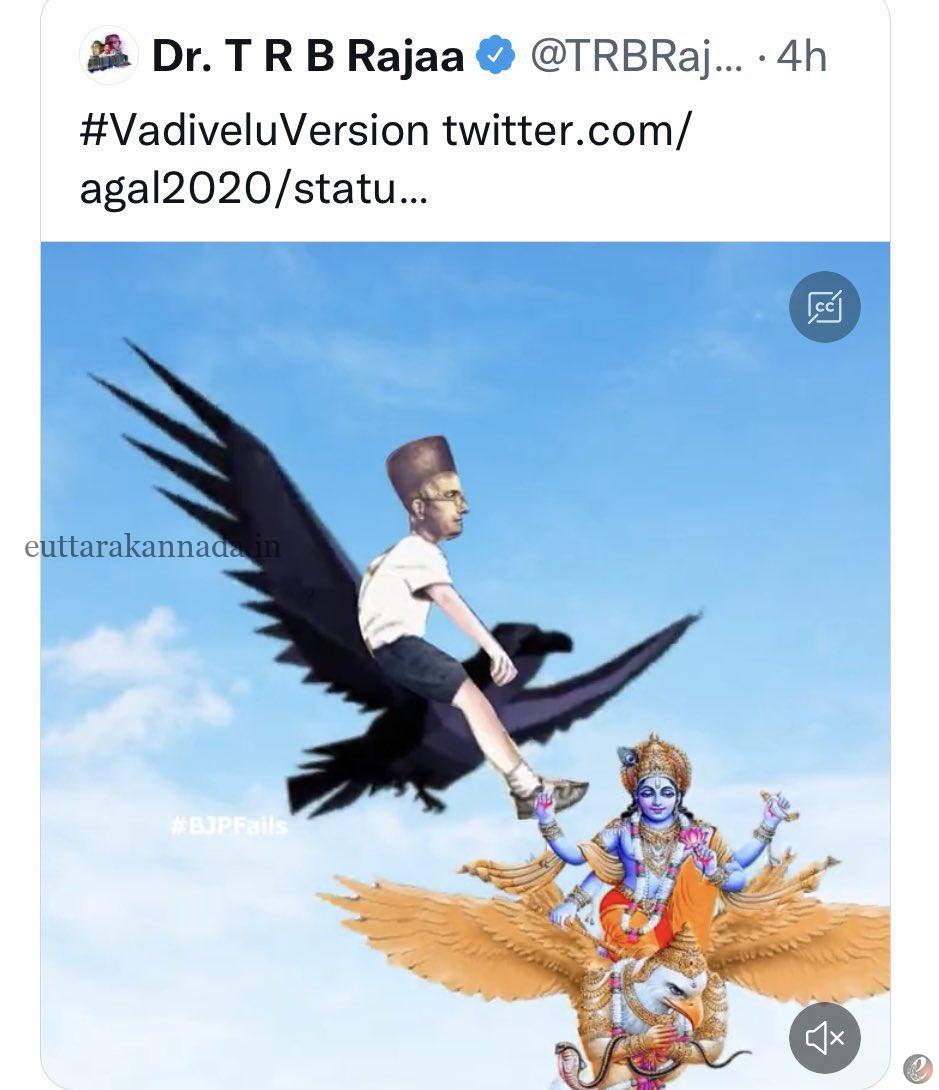 Platforming And Promoting Anti-Hindu Dravidian Stockists
Kannabiran Ravishankar who goes by the handle @kryes on Twitter, is the Editor-in-Chief of Dravida Pozhil, which according to its website is "a quarterly, bi-lingual, academic research journal with focus on Dravidian studies". He is a high decibel foul-mouthed Dravidian Stockist promoted and platformed by the DK-DMK ecosystem. He recently made social media news for falsifying his degree from UC Berkeley. Kannabiran is known for distorting Hindu scriptures and fomenting hatred against Tamil Brahmin community with vile casteist abuses. He has made several derogatroy and vulgar remarks against Hindu Gods. Many of his tweets have foul language objectifying Tamil Brahmin women. He had even used private photos of Tamil brahmin families including that of children to spew the Dravidian 'anti-Brahmin' vitriol.
He was seen giving CM MK Stalin a book, appearing frequently in the Dravidian Professionals Forum, an organisation founded and headed by DMK  finance minister PTR Palanivel Thiagarajan, being close friends with DMK MP Senthil Kumar, and receiving a doctorate of letters from the Periyar Maniammai Institute of Science and Technology in front of Dravida Kazhagam (DK) President K. Veeramani.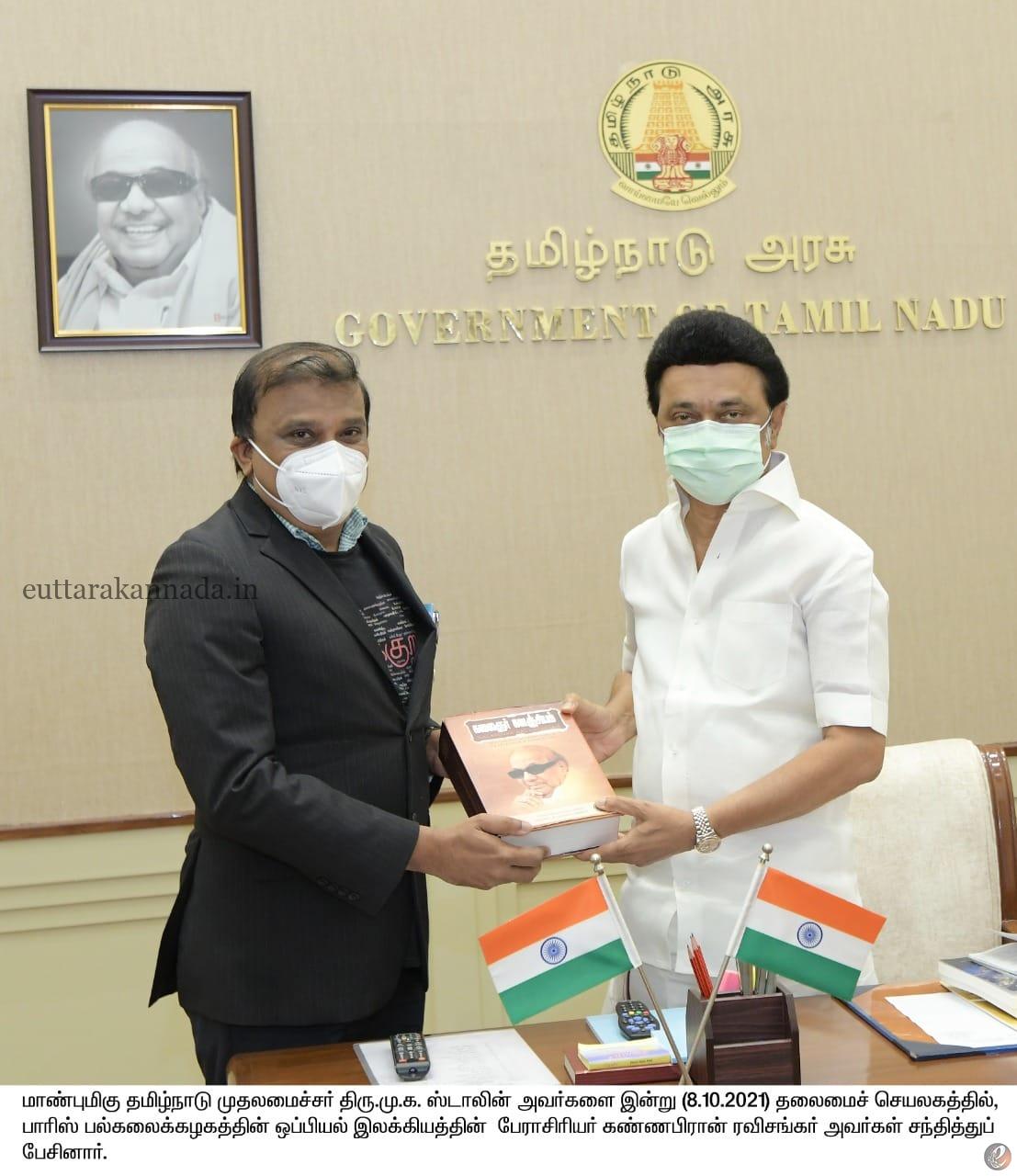 Appointment Of Anti-Hindu Elements To Government Posts
Suba Vee, who is best known for his anti-Hindu speeches that specifically target the Brahmin community and who has been a resolute supporter of "Metoo Vairamuthu," has been appointed to a government post despite being accused of being a sexist by lyricist Thamarai, who has worked with filmmaker Gautham Vasudev Menon and music director Harris Jayaraj.
Suba Veerapandian was appointed to the Advisory committee to Tamil Nadu Textbook and Educational Services Corporation and Chairperson of 'Social Justice Monitoring Committee'.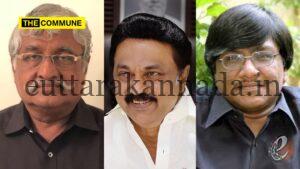 Another rabid Hindu-hater who has been appointed to the committee is S. Abdul Hameed who identifies himself as Manushyaputhiran. He is allegedly a poet and participates in television debates in supportive of the DMK. He too is known for making anti-Hindu statements.
Giving Tickets To Abusers Of Hindu Gods
Ezhil Naganathan, who said that Naradha (the Hindu god) simply wanted to have sex with several women and that Lord Vishnu had acted like a "pimp," was given the MLA ticket by the DMK for the Thousand Lights constituency in 2021, and he is currently the MLA.
Coaxing Christian Pastor Who Had Called To Punch Hindus In The Face And Make Them Bleed
Rabid Christian evangelist pastor Bishop Ezra Sargunam, during the protest against Farm law in Decemeber 2020, spoke derogatory about the personal life of PM Modi while having MK Stalin on stage. Earlier in 2018, he had asked SDPI (a fanatic Islamic organization) to go all out against Hindus who are questioning them in the light of the murder of PMK functionary Ramalingam who had opposed Islamic conversions. He had promised support to Vaiko, Thirumavalavan and M.K.Stalin if they undertook this endeavour. He had also said that there was nothing called the Hindu religion and instigated Christians to punch Hindus in the face and make them bleed if they did not recognize the truth.
Insulting Hindu Rituals
MK Stalin himself while speaking at a Muslim wedding function had said that if one were to look at the meaning of the mantras chanted during Hindu wedding ceremonies, it would turn out to be 'disgusting'.
In another instance in September 2022, Dharmapuri DMK MP Senthil Kumar at a Bhoomi Pooja ceremony organized in his constituency, had reportedly kicked the sacred bricks and abused his own party cadres for conducting Bhoomi Pooja as per Hindu traditions.
Earlier in July 2022, the DMK MP who had gone to attend a Bhumi Pooja function of a lake restoration project in his constituency blurted out at government officials and forcefully stopped the traditional Hindu prayers from happening in an attempt to 'secularize' the event.
Giving A Free Pass To Abusers Of Hindus And Hindu Gods
In yet another instance of spewing venom against Hindus and Hindu Gods, rabid anti-Hindu fringe outfits like Dravidar Viduthalai Kazhagam (DVK), Thol Thirumavalavan's Viduthalai Chiruthaigal Katchi (VCK), Popular Front of India, Communists, and other "Periyar"-ist organizations had organized a 'mega-rally' under the name of "Periyariya Unarvalargal Kottamaippu" in Madurai on May 29, 2022.
The rally's slogans include, "That Maari (Goddess Amman) who begs for goat and pig sacrifice is a God? Is Lord Krishna, who sexually assaulted a woman, a god? When a guy and man have intercourse, will a child be born? Is it logical to refer to Ayyappan as God?" As usual, the Stalin government remains to be a silent spectator when Hindu religion was insulted.
Surendar Natarajan alias 'Naathigan' of Karuppar Koottam YouTube channel who was arrested for putting abusive and vulgar videos of Hindu Gods has been released from jail following the DMK's rise to power. Another YouTube channel called U2 Brutus, which is well-known for being a vociferous supporter of the DMK, released a video titled "Pornography in Vedas" in which the host, who goes by "Minor," and an alleged Saivite scholar by the name of Prakash defame the Vedas, the revered Hindu scripture.
YouTuber Minor Vijay also made disparaging remarks against Lord Nataraja and Thillai Kaliamman. However no action was taken against him despite political parties, general public, thousands of devotees and Sivanadiyars staged a protest in Chidambaram. In fact, he was felicitated and given an idol of E.V. Ramaswamy Naicker (knonwn as Periyar by his followers) by Tamil Nadu Health Minister Ma. Subramanian at an event held in April 2022.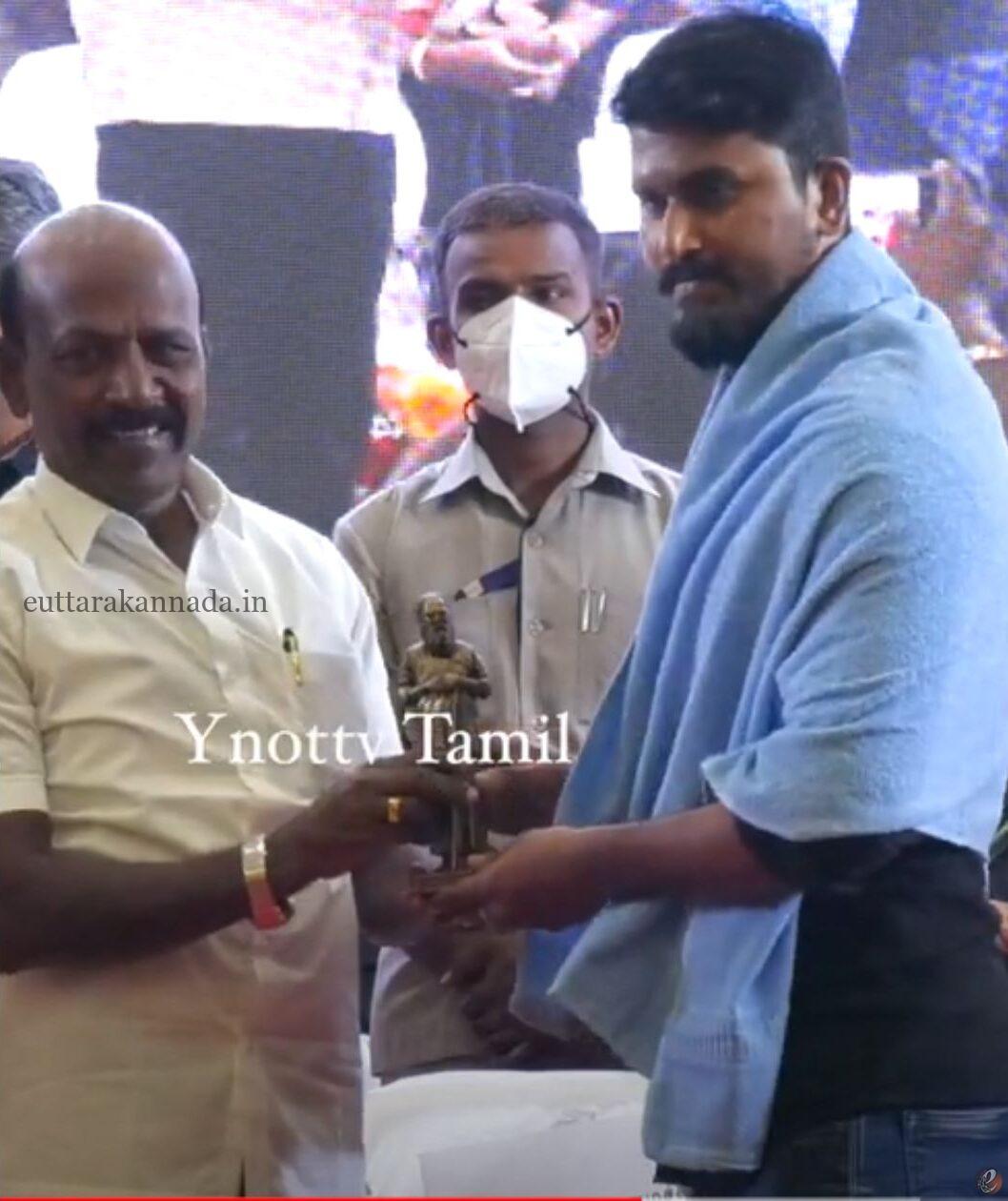 These kind of rabid, anti-Hindu hate speeches has not invited any action.
On the other hand the DMK government had registered First Information Reports (FIR) on around 75 people who assembled in Kapaleeswarar Temple to discuss ways and means to engage in Temple activities in September 2022.
This slapping of FIR even for a normal congregation at Mylapore temple is not an isolated occurrence. This DMK government is known for slapping FIR on those who speak for Hindu cause. Arresting stunt master Kanal Kannan for a speech demanding removal of EVR statue in front of Srirangam temple, arresting YouTubers of their dislike – Karthik Gopinath and Maridhas – on fabricated accusations, slapping goondas act on BJP leader Kalyanaraman, other arrests of BJP supporters, and Hindutva groups for tweets and posts are just a few examples.
The people of Tamil Nadu have had enough. There is a rising Hindu consciousness among the people which is what has pushed Stalin on the defensive which has made him say that his party DMK is not anti-religion.
But the facts lay bare – the DMK and its leaders continue to be anti-Hindu.
ಕೃಪೆ: http://thecommunemag.com