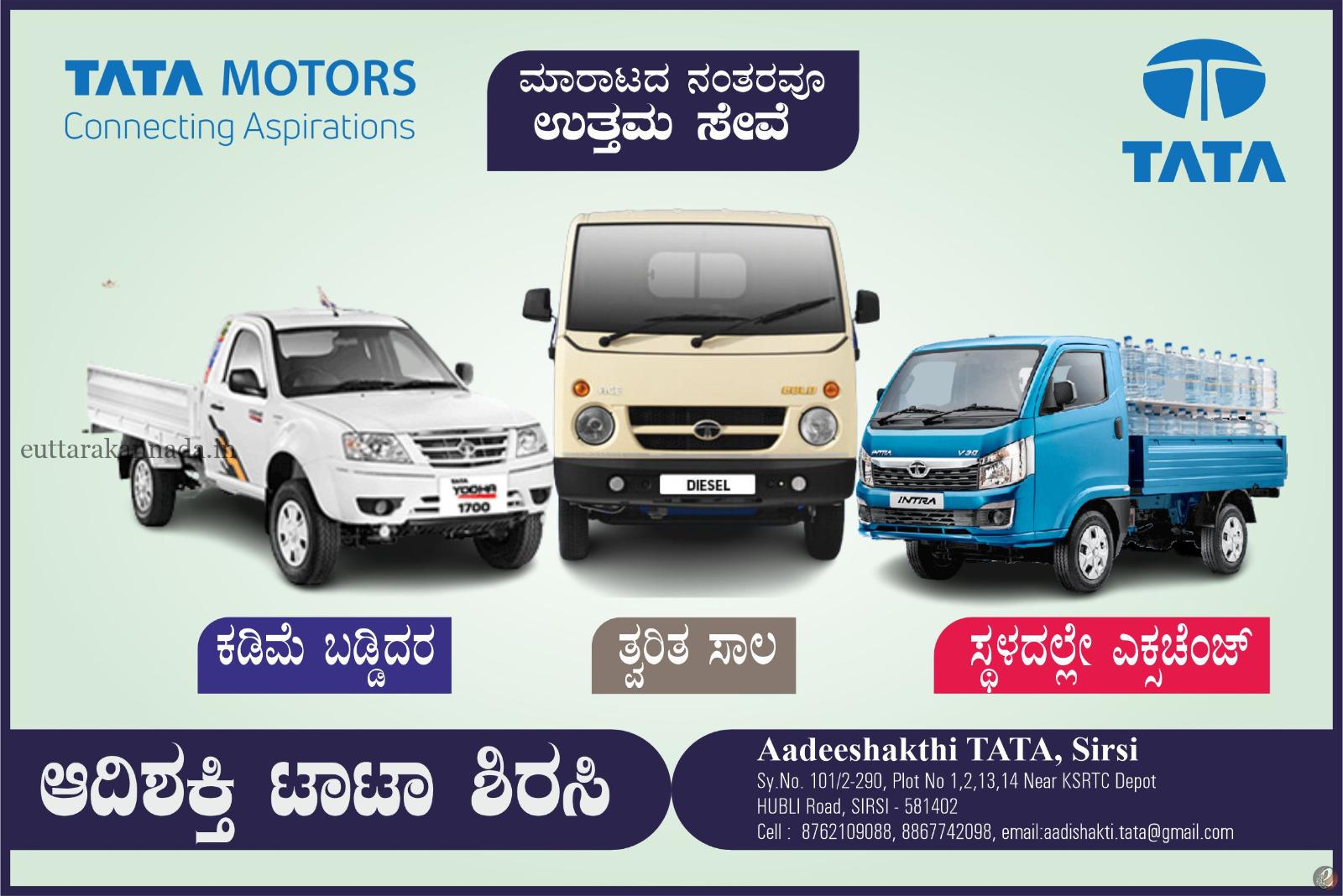 On November 26, 2022 I gave a talk on Guru Tegh Bahadurji in Ujjain. On completion of the talk 18-20 armed Nihangs surrounded me. I was told (in Punjabi) that I must stop spreading mithya about the gurus being Hindu and Devi bhakts.
Nearly a month later i.e. on December 18 a group of Nihangs from Punjab barged into a Sindhi home in Indore and objected to moortis of Hindu Deities being worshipped in their mandir alongside the Guru Granth Sahib.
Patthat hatao they said or hand us over, the Guru Granths of all Mandirs and homes. They even submitted a memorandum to the police for Sindhis to either get Guru Granth removed by January 12, 2023 or declare all those places housing them as gurudwaras where Sikh Granthis would worship the Granth. A near similar attempts to control Sindhi Gurudwaras was made in 2020-21.
The Sindhi community could not accept removing Ganesh ji, Sri Ram, Sri Krishna from their mandirs hence decided to do away with the centuries old tradition of following Granth Sahib. Thus with a heavy heart, on January 11 and 12, Sindhis handed over Guru Granths from around 153 of their Mandirs/ Tikana in Indore to Gurudwara Imli Sahib.
Jan 11 and 12, 2023 would be remembered as a black day in the centuries old tradition of Sindhis of Indore revering the Guru Granth Sahib. None can stop them from worshipping Guru Nanak and Baba Sri Chand though.
This is not unique to India. A senior Sindhi writes from Indonesia, "Now it is a fixed tradition, baithak (pagadiyoon in Sindhi) is almost always in the gurudwara, both were originally built by Sindhi merchants who were more affluent and even had a Sindhi Bhagat in charge. From 1980s this changed permanently. Bhagat Bheroomal was ousted, ragis and gyanis from india took over – the committee has a Sindhi or two who are in their late 80s now. The deceased are always replaced by Sikhs."
The Shiromani Gurdwara Parbhandhak Committee (SGPC) was created in 1925 to manage gurudwaras in Punjab. An attempt is being made to make Sikhs follow the concept of One Book, like Abrahamic religions. Indic faiths are intertwined not mutually exclusive.
The SGPC says that Sindhis are Sehajdhari Sikhs and activists of the Satkar Committee from Punjab alleged violation of Sikh Rehat Maryada. The problem is there are differing versions of who is a Sehajdhari Sikh. Read here . The definition of who is a Sikh in the 1925 Act is typical Singh Sabha/Akali/exclusivist/separatist/alienating view. To know who are Nirankaris, Brahmin Sikhs and Ravidassa Sikhs read here
Food for thought
1. Do Sikhs have a monopoly over the Guru Granth Sahib?
The late Khushwant Singh wrote that, "While the Adi-first Granth is essentially a distillation of Vedanta in Punjabi, the last Dasam- tenth is a compilation of tales of valor of Hindu goddesses. Of the 15,028 names of God that appear in the Adi Granth, Hari occurs over 8,000 times, Ram 2,533 times followed by Prabhu, Gopal, Govind and other Hindu names for the divine. The popular Sikh coinage Wah Guru appears only 16 times." Hari is Vishnu.
2. The word "Sikh" comes from the "Sanskrit word sishya meaning a learner or a person who takes spiritual lessons from a teacher."
3. Dr Arvind S Godbole wrote in The Unbreakable Hindu-Sikh bond, "To qualify as a 'separate religion' it must have a theology and philosophy distinct from other religions. These basic theological concepts are of the Sanatana Hindu religion. Shankara in his Vivekachudamani (225) calls Parabrahma as nitya or eternal. Bhagvadgita (9.18) regards the supreme as the primordial origin of the universe. The Chandogya Upanishad (8.3.8) holds that the truth is His name. Bhagvadgita, (7.25), declares that the ignorant think that the Supreme Being has a birth. The immanence of the Supreme being, a cardinal tenet of the Sanatana Hindu religion and the Sikhism differentiates then clearly from the Semitic religions, who do not subscribe to that doctrine." To read more Of the nine schools of Indian philosophy there is no Sikh school.
Thus, it is easy for non-Khalsa Sikhs to revere the Granth Sahib.
4. Sikhs were considered very much part of the Hindu community till the 1980s-1990s. Even today they are part of the Hindu community under the Hindu Marriage Act and Income-tax Act.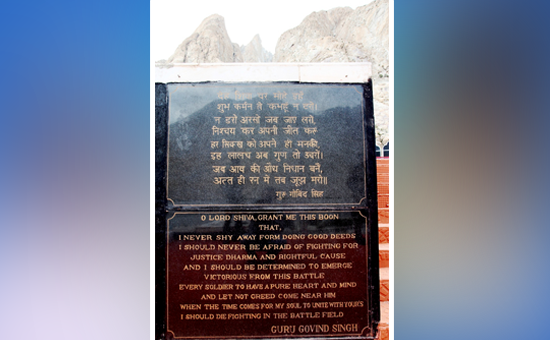 5. There is plaque at the Siachen War Memorial of Guru Govind Singhji's prayer to Shivji. "Oh Lord Shiva, grant me this boon that, I never shy away from doing good deeds. I should never be frightened away from fighting for Justice, Dharma and Rightful Cause and I should be determined to emerge victorious from this battle. Every soldier to have a pure heart and mind and let not greed come near him. When the time comes for my soul to unite with yours I should die fighting in the battle field."
Also read How the British divided Punjab into Hindu and Sikh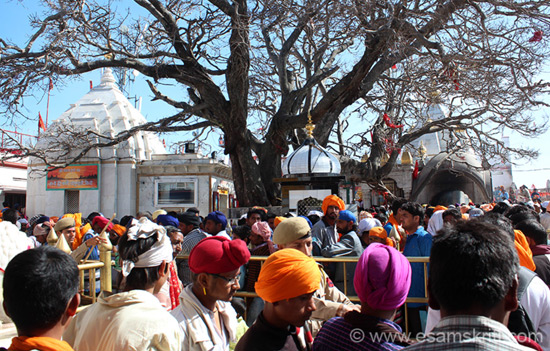 6. Scholar and author W.H. McLeod wrote, "For the Sikhs of the 18th century, the goddess Devi clearly had a considerable fascination. The goddess Durga who appears in three works in the Dasam Granth created a problem for the Tat Khalsa scholars who strongly affirmed monotheism. The question was settled by concluding that Bhagauti symbolises God as the Divine Sword."
7. "Udasis and Nirmalas (Sanatis) today have the Granth in their establishments which they worship in virtually the same way. But they do not exactly follow Sikh Rehat Maryada of SGPC. Udasi aarti is different from Sikh ardas. Karshni Udasis even worship Krishna. Both Udasis and Nirmalas are close to sadhus of Dashnami Sampradaya, attend Kumbh Mela, and are liberal."
Will some Sikhs remove Guru Granth Sahib from Nirmala gurudwaras?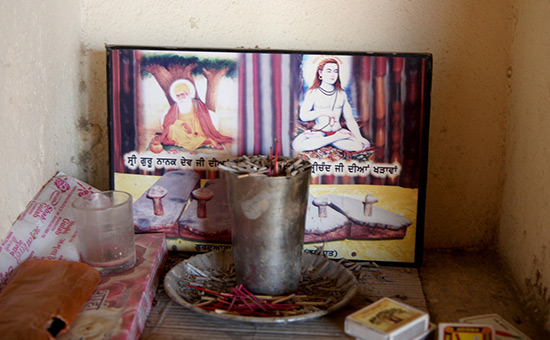 8. Maharaja Ranjit Singh donated gold for three temples i.e. Hari Mandir in Amritsar, Kashi Vishwanath Mandir and Jwalamukhi in Himachal Pradesh. He willed the Kohinoor Diamond to Jagannath Mandir in Puri.
The above are only a few examples of how both are intertwined.
History of intertwined Sindhi Nanakpanthi and Udasi culture
Disciples of Guru Nanak called themselves Nanak Panthis. Udasi began with Baba Siri Chand (son of Guru Nanak Dev and Mata Sulakhani Devi). Udasis are known as an ascetic sect as against the mainstream Sikh belief in worldly activity.
Author and Kriya Yoga teacher Jyoti Subramanian adds, "The word Udasi itself is derived from the word udas as in sad, meaning one is sad until the final merging in the divine, Parmatma. It is now popularly believed that the Udasi sect was started by Yogi Siri Chand. The fact is that the Udasis were an old sect connected with the even more ancient Nath Samradaya. The dhuni or dhuna (traditional fire pit with a tong) is a hallmark of the Naths, followers of the Gorakhnath lineage."
Also readAbout Baba Sri Chand, son of Nanak
Sindhi religious practices have been a mix of Nanakpanthi, Udasi, Daryapanthi and other traditions. They became followers of Guru Nanak after his visit to Shikarpur, Sindh during Udasis/ travels (1469-1539). Of the Sindhi communities Amils, Bhaibands and Shikarpuris have the largest followers of Nanak.
A senior Sindhi from Indonesia writes, "Most Sindhis are very much fond of Guru Granth Sahib, so much that most of my father's generation could read it in the original Gurumukhi. There was even a complete translation of Guru Granth in Sindhi."
Many Nanakpanthi Tikanas (Sindhi word for chapel, literally meaning where one bows down one's head and become still) still exist in Sindh. The largest one is Sain Vali Vilayat Darbar in Shivalo Mohalla, Qambar in Shahdadkot district. It was founded by Vali Vilayat Rai in 1887. Sant Bhai Wasan Shah, Swami Dharmdas, Bhai Waliram are some known Nanakpanthi saints. Their Darbars housed Guru Granth Sahib, pictures and moortis of Sikh gurus, along with Ganesh ji, Ram ji, Hanuman ji, other Hindu Deities and Jhulelal ji.
So what is happening in India is a carry forward of that tradition.
In the late 16th century, many Sindhis became Udasi Panthis after Nanak's son Baba Sri Chand visited Thatta. Udasi traditions in Sindh are an amalgamation of Hindu traditions, Nanakpanth, Daryapanth (followers of Jhulelal). The main Udasi pilgrimage place, in Sindh, Sadh Bela was established in 1823.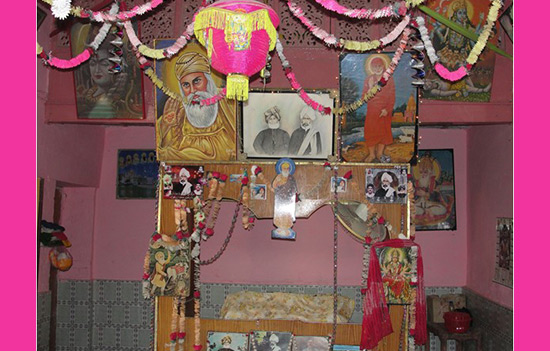 Many of the Lohana-Amils of Sindh from Uch and Multan and the Khatri Sindhis were Keshdhari Sikhs and considered Guru Nanak as their Isht Devata (personal God) for e.g. two clean shaven Sikhs story of Gulu Lalwani, founder of Binatone U.K. and actor Ranveer Singh Bhavnani.
With the mass exodus of Hindu from West Punjab in 1947, Udasi darbars like Dera Baba Bhumman Shah, Okara in Gujranwala, Bhai Pheru in Lahore were left deserted because many Sindhis migrated to India. Those who migrated to Mumbai established a branch of Vali Vilayat Rai Qambar Darbar at Kandivali in 1960.
Sindhis left behind in Sindh became more syncretic. Janamsakhis, devotional literature, hagiographies of various saints ascribed to Nanakpanth and Udasipanth were published between 1843-1947 in Sindhi in Hyderabad, Shikarpur and Sukkur regions of Sindh.
Also read About Baba Sri Chand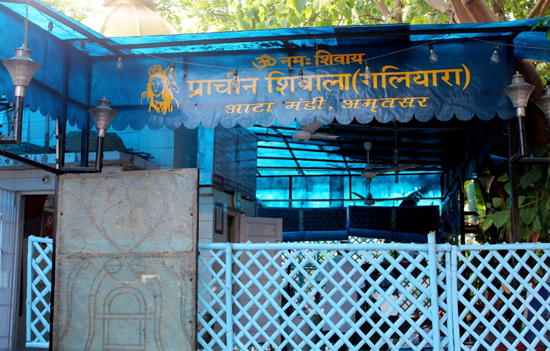 Sindhi Nanankpanth/Udasipanth vs. Colonial (modern day) Sikhism
At the time of partition, 171 major Sikh gurdwaras existed in the part that became Pakistan. Originally, they were controlled by Udasis. Their control later passed on to the Mahants and lastly, came under the control of the SGPC in 1921.
The Sikh community was told in 1947 and repeatedly thereafter that maintaining these gurdwaras, appointing sewadars/caretakers would be the responsibility of Shiromani Gurdwara Parbhandhak Committee (SGPC). "There was no response whatsoever from any source. Thus, all historical Gurdwaras including Janamsthan, Nanakana Sahib were handed over to the Pakistan Board for Trust Properties of Waqf Broad for care and maintenance.
The conditions of these sacred shrines was deteriorating and required restoration. However, little was done. Today, their condition is very poor. Gurdwaras like Nanak Garh, Badami Bagh, Lahore that are now history. (Reference – Historical Sikh Shrines in Pakistan.)
Since SGPC was the only organization that had been organizing annual Jatthas to Pakistan and known to collect charhava, it was their Dharma to spend atleast part of these cash offerings for the general upkeep of some of these historical institutions."- A Review of Iqbal Kaisar's, Historical Sikh Shrines in Pakistan by Dr. Ujagar Singh Bawa, Professor Bloomsburg University of Pennsylvania.
Those trying to teach maryada to Sindhi Samaj, calling them pakhandis, calling Hindu pratimas mere stones, should visit Pakistan and establish maryada in gurudwaras of historical significancelike Baal Leela, Nanakana Sahib, Keyara Sahab, Maaljee Sahib, Tamboo Sahib, Chakkee Sahib, Eminabad/ Sadipur, Gujranwala (where Babur took Guru Nanak as one of his prisoners and put him on a grinding mill) etc. It is like those wanting to establish Khalistan in India, should first do so in Lahore, the capital of Maharaja Ranjit Singh.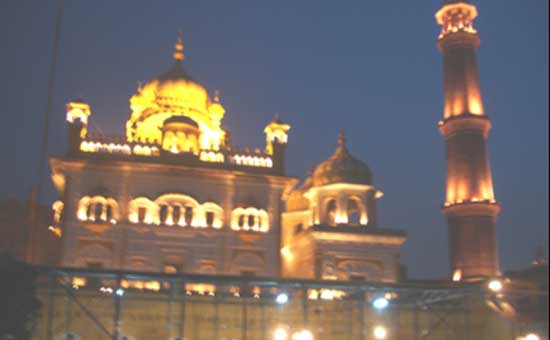 Conditions of most structures is poor. Gurdwaras like Nanak Garh, Badami Bagh, Lahore that are now history. (Reference – 'Historical Sikh Shrines in Pakistan')
The ten Gurus were Khatri Hindus
All sects of Sindhis in India as well as Pakistan have in their Tikana/ Mandir, the Guru Granth Sahib placed in the middle with all Hindu deities around it.
Don't those who are imposing their version of Sikhism and calling presence of pratimas of Devis and Devtas around the Guru Granth beadabi know that that there were murtis in Golden Temple till about 1905 and the real name of the golden temple is Hari Mandir. Hari is none but Vishnu.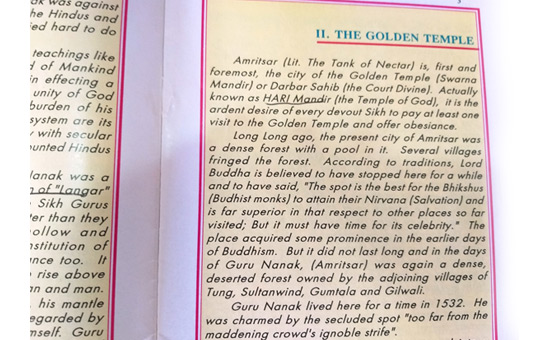 Guru Nanak worshipped Shaligram form of Shri Hari and always carried with himself, the Saligram Shila which along with his mala, Rudraksha, Padam with his image and gold coin from Shri Krishna's times passed down by his father, his pothi, all are kept in Gurdwara Pothimala Sahib, Faridabad. Source Pothimala Gallery.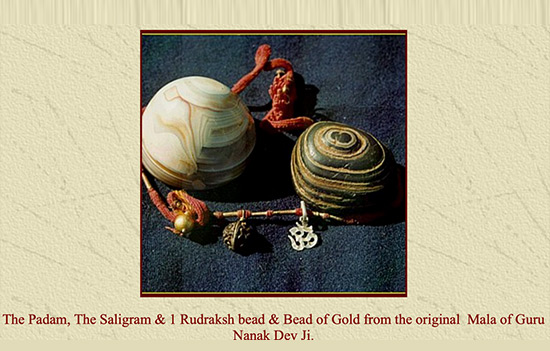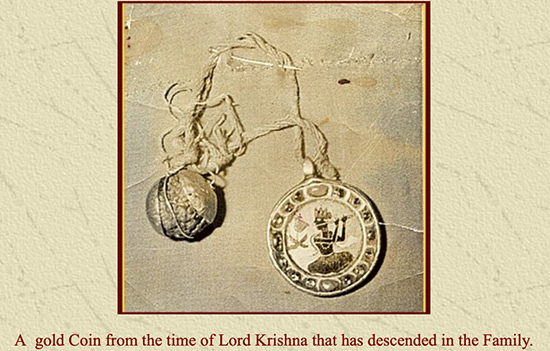 The problem has arisen because modern day Sikhism is a post 19th century colonial construct.
The 10th Guru created Khalsa to fight the Mughals. But the British used the five or external forms of Khalsa, amongst others to create differences between Sikhs and Hindus. Historian Max Arthur Macauliffe led the British charge.
Macauliffe wrote in The Sikh Religion-Its Gurus, Sacred Writings and Authors, Vol I, Preface 24-5, "I met in Lahore young men claiming to be descendants of the Gurus, who told me that they were Hindus, and that they could not read the characters in which the sacred books of the Sikhs were written…such youths are ignorant of the "Sikh religion", of its prophecies in favour of the English, and call us Mlechhas…"
In volume 1, 22, preface Macauliffe admits having inserted an, 'oath of loyalty to the British' in the Khalsa initiation ritual.
Just to add some titbits
1. The Sikh Shrines were known as Dharamsalas, the word Gurdwara was came later. Some quotes.
Professor Ian J. Kerr wrote, "King Abdur Rahman of Afghanistan dismissed an appeal by Hindus to keep idols in Dharamsala of Hari Rai in Kabul. Hindus had no concern with Sikh shrines, as Sikhs had nothing to do with Hindi Thakur Dwaras and Shiv Dwaras." Source The British and the Administration of the Golden Temple 1859, Panjab Past and Present, Vol. X, Oct 1976, pg. 315.
Teja Singh wrote in The Gurdwara Reform and the Sikh Awakening, "This Dharamsala is named after Guru Har Rai, the seventh successor of Baba Nanak."
2. All the Gurudwaras including Hari Mandir had Vigrahas, pictures or paintings of Shiva, Vishnu ji, Hindu Devi Devtas and Guru Nanak ji till the early 20th century
3.In 1905, murtis were removed from the precincts of Golden Temple, Amritsar. Maharaja Hari Singh of Nabha was asked to interfere but he refused.
4. A newspaper published in the Punjab denounced the radical Sikhs for throwing away a Shivling that existed in the parikrama of the Golden Temple. Picture of ancient Shiv Temple in Golden Temple shared above.
5. "A painting in another temple showing Guru Gobind Singh standing with folded hands before the Goddess was obliterated with ink." Akhbar-i Am, 10 April 1900, Selections from the Vernacular Newspapers published in the Punjab, 1900, vol. XIII, p. 200
6. "In 1905, Arur singh, manager of the Golden Temple ordered the removal of all idols from the precincts Golden Temple, thereby putting an end to the performance of Hindu rituals in that area." Ham Hindu Nahin: Arya-Sikh Relations, 1877-1905 Kenneth W. Jones, p. 211
In view of the above, can the SGPC and some Sikhs claim exclusive ownership of the ten Gurus and the Granth Sahib?
The Madra Desh Guru Govind Singhji talks about in Bichitra Natak, is Brahmavarta, the present day Sindh & undivided Punjab. Sindh is not just a geographical region but an inalienable part of our heritage.
The Sikhs, Nanakpanthi Sindhis, Punjabi Hindus have for centuries revered the Gurus and the Granth as their own, and probably have understood their teachings better since they see them from the Vedic aspect of oneness.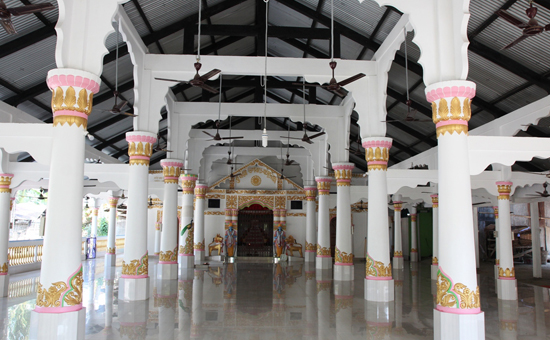 Sindhis fled to the Indian side after 6 January 1948 Karachi riots.
But the tradition of Gurbani went uninterrupted through centuries for Sindhis, in India as well as Pakistan.
Today, Udasipanth Sindhis follow the Gaddi of Baba Hari Ram who strengthened the Udasi panth and whose spiritual ancestry is traced to Guru Nanak Dev himself. The differences between Baba Shri Chand's Udasis and Guru's traditional Sikhs ceased after Guru Gobind Singh declared the Granth as the Guru.
Question -Who is the maryada following 'Saccha Sikh' according to SGPC?Nirankaris, Nanakpanthis, Uddsis, Niranjanis, Suthra-Shahis, Sanmal-Shahis, Dhir Malias, Sevapanthis, Sat Kartaris, Nirmalas, Namdhairs, Ravidasas or the Nihangs?
Instead of trying to distance themselves from Sanatana Dharma, Sikhs should worry conversions of Sikhs to Christianity.
ಕೃಪೆ: http://esamskriti.com