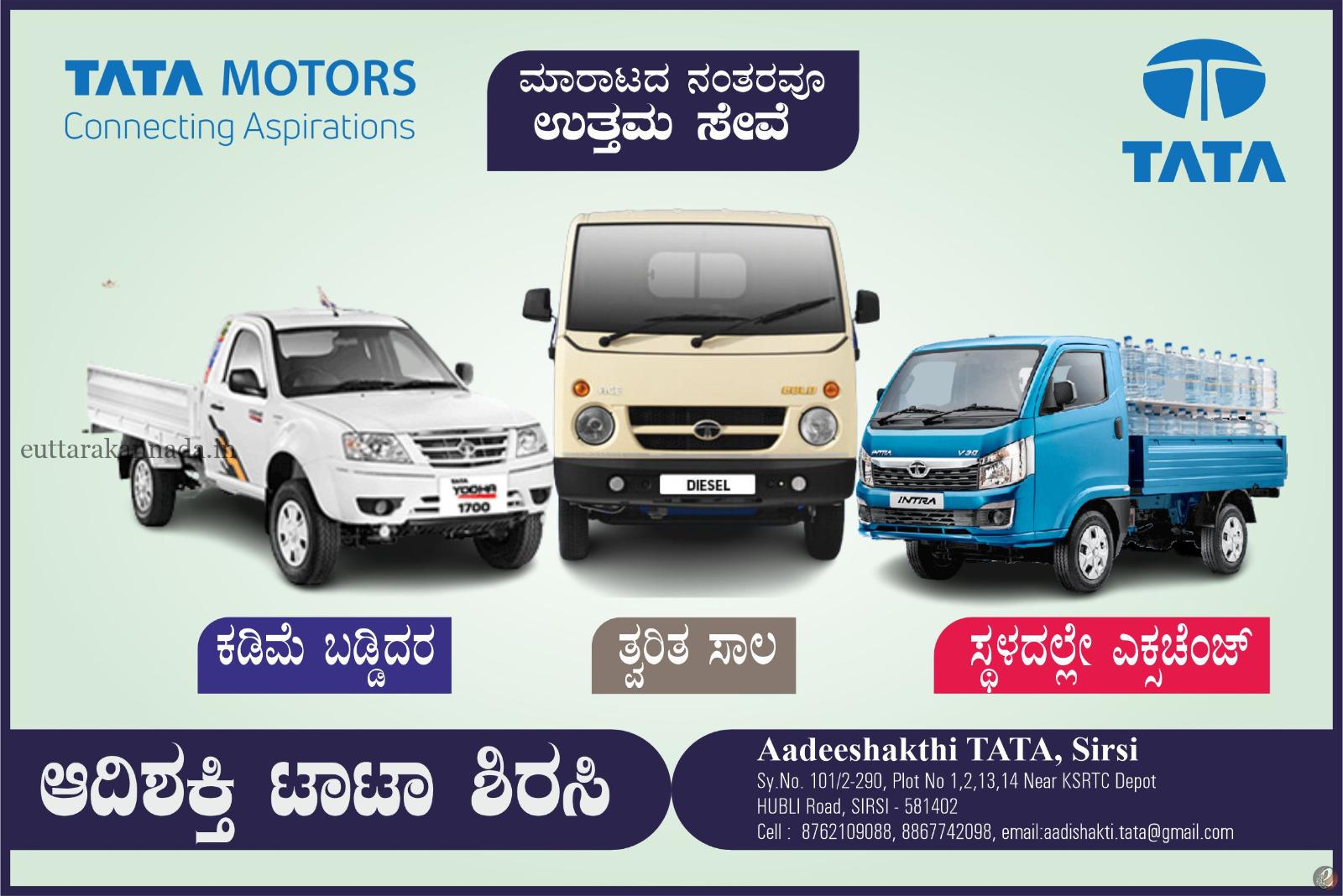 Dussehra is celebrated on the tenth day of Navratri, is also known as Vijayadashami. Just like Holi is celebrated in different ways across India so is Dussehra. This articles enumerates the different ways with links to articles and albums.
1. Mysuru Dussehra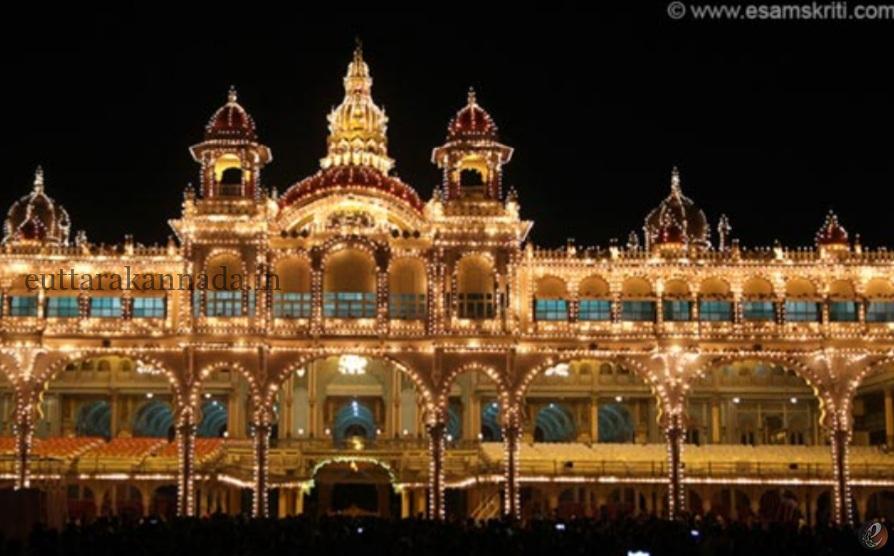 The city celebrates Ma Chamundeswari's victory over Mahishasura. Celebrations are around the Mysuru Palace i.e. fully lit up. Local wrestlers fight within the palace premises. The current Wodeyar King (titular) rides on an elephant. Get to see lots of folk dance and enjoy music from different parts of Karnataka. Elephants start from the palace, go through the town to end at a stadium few kms away where an evening function is held. The city is beautifully lit up. The energy is infectious. Do try the street food very good. You get North Indian food too.
Sharing links
About Mysore Dusshera: https://www.esamskriti.com/e/Culture/Festivals/Mysore-Dussehra-1.aspx
Mysore Dusshera Pics: https://www.esamskriti.com/a/Karnataka/Mysore-Dussehra.aspx
Inside Mysore Palace: https://www.esamskriti.com/a/Karnataka/Mysore-Palace-Inside.aspx
Mysore Dusshera travellogue; https://www.esamskriti.com/e/Culture/India-Travel-ad-Yatras/Mysore-is-a-great-place-to-visit,-more-so-during-Dussehra–1.aspx
Sand Museum Mysuru: https://www.esamskriti.com/a/Karnataka/Sand-Museum-Mysuru.aspx
https://www.esamskriti.com/a/Karnataka/BAHUBALI-Gomateshwara-Sravanabelagola.aspx
https://www.esamskriti.com/a/Karnataka/Somnathpur-Temple-Mysore-.aspx
2. Bastar Dussehra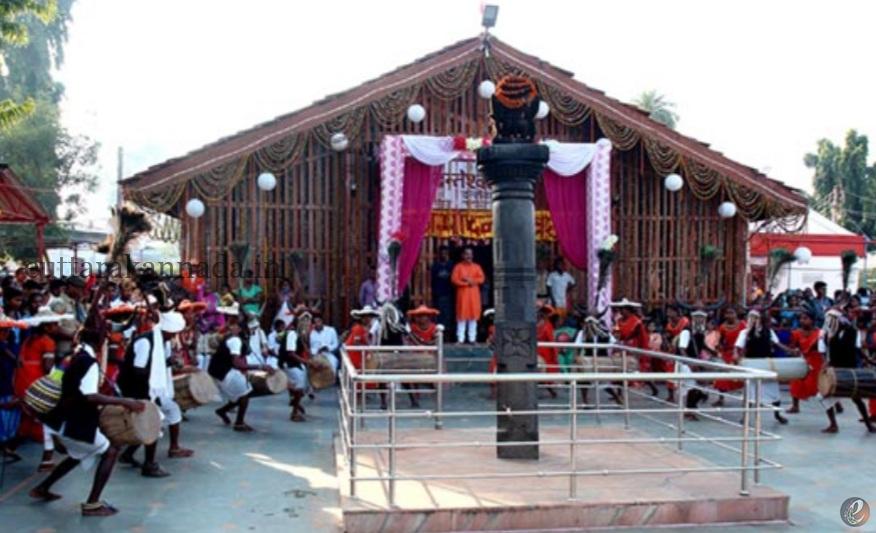 It is celebrated for 75 days. The last four days are key. Start with Dantewada and then move to Jagdalpur (Dantewada is about 8 hours by bus from Raipur Airport, private car would be shorter. Jagdalpur to Dantewada is less than two hours).
Here no effigy of Ravana is burnt. Instead the festival celebrates Ma Danteshwari and her reunion with sister Maoli Devi.
Celebration starts at Ma Danteshwari Mandir in Dantewada from where the procession moves to Jagdalpur's Danteshwari Temple and around where rest of festival is celebrated. The erstwhile king of Bastar plays an important role (titular head) whilst the devotees and performers are all Adivasis who worship their own Gods and Goddesses. The Bison Maria (men and women) danced in both towns. Their dance and music is a must experience.
In Jagdalpur visit Jogi's Bithai (Jogi's Penance), Nisha Jatra from Bastar Palace is a must experience, adjacent to Danteshwari Mandir in Jagdalpur is where young girls are worshipped and fed. Maoli Devi is kept at Jiya Dera overnight for darshan post which there is a procession which goes to Danteshwari Mandir. Nearly half way through Maoli Devi is received by the titular King of Bastar who takes Maoli Devi to Danteshwari Mandir (this is a major event).
During the festival you will see devotees in a trance with Anga Deo on their shoulders. "The much-revered shape of God is called Anga Deo and can have a ladder like shape (Doli) or even a stick, stone or tree." They walk very fast and you will get hurt if they bang into you by mistake so be careful.
Close by next day see construction of chariot on which Maoli Devi would be kept and then the procession to drag the chariot. This chariot is taken to Kundakot where the adivasis bring their deities one by one. It is then taken back from here to Bastar Palace.
The Bastar Dussehra album covers the festival step by step or read about Bastar Dussehra in Outlook Travel or a simply told Informative Blog
Sharing Links
https://www.esamskriti.com/a/Chhattisgarh/Bastar-Dussehra.aspx
https://www.esamskriti.com/a/Chhattisgarh/Danteshwari-Mandir.aspx
https://www.esamskriti.com/a/Chhattisgarh/People-of-Bastar.aspx
https://www.esamskriti.com/a/Chhattisgarh/Jagdalpur-Bastar.aspx
https://www.esamskriti.com/a/Chhattisgarh/Chitrakoot-Waterfalls-Bastar.aspx
https://www.esamskriti.com/a/Chhattisgarh/HAAT-MARKET-BASTAR.aspx
3. Worship of Shakti in Punjab
"On the 8th day or Ashtami, they open their fast along with organizing Bhandara for nine little girls known as Kanjika". Pic credit www.easymyblog.com
Read Unique Navratri / Dussehra celebrations in various states
4. Mardaani Dussehra, Jhejuri Temple Maharashtra
Jhejuri is also famous for its sword lifting competition. It weighs 42 kgs and was probably gifted by a Maratha Sardar in the 17th century. At the Khandoba Temple, Jhejuri near Pune is celebrated Mardaani Dussehra.
Sharing links
To see video 2 minutes must see
To see lovely pictures of Mardaani Dussehra
5. Kullu Dussehra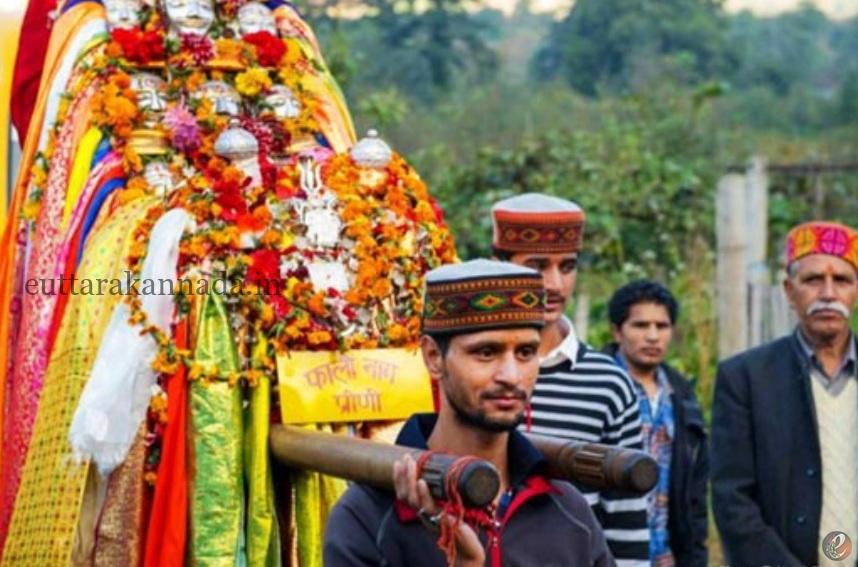 "In the 17th century, King Jagat Singh installed an idol of Lord Ram on his throne on the day of Dussehra. Since then, Lord Ram has been named as the ruling deity of the Kullu Valley. In Kullu, they don't celebrate Dussehra by burning the effigies of Ravana. However, there is a tradition of setting a pile of bushes on fire which is believed to depict the burning of Lanka."
"The Kullu Dussehra, started by king of Kullu Jagat Singh in 1665, used to be held at Manikaran, but the king brought the old idols of Lord Raghunath from Manikaran to Kullu, said Maheshwar Singh, the present 'Kardar' of Lord Raghunath, who is hero of all ceremonies."
Kullu Dussehra starts when Dussehra ends in other parts of India. Locals in groups walk with their Devis and Devatas to Kullu and camp in a maidan. Each devta has its own tent. The Raja of Kulu leads the procession to install the image of Raghunath, the reigning deity.
Sharing links
Official site of Kullu Dussehra
Read about Rath Procession, Lalhri Nati Dance, Wooden Temples
6. Kota Dussehra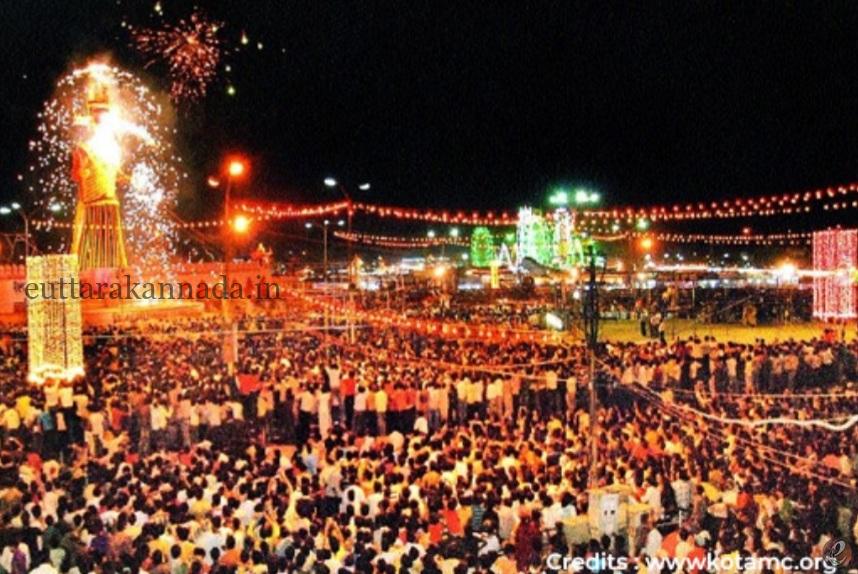 This is a regular Dussehra with effigies of Ravana being burnt.
To see a 3 minute video on Kota Dussehra
Can Dussehra be complete without Ram Lila? It is held in Delhi, Uttar Pradesh (popular one is in Ramanagar near Kashi) and Kumaon etc.
7. Kumaon ki Ram Lila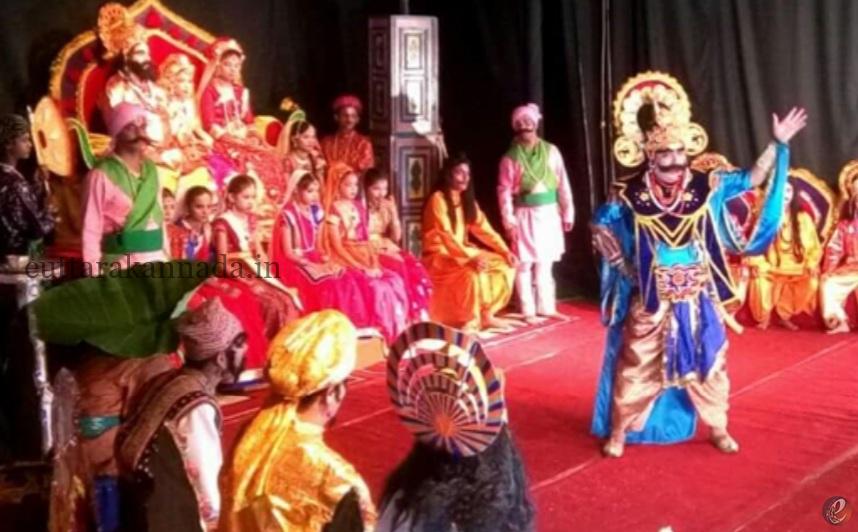 "Also known as the Kumaoni Ramleela, it was first started in 1860 at Almora's famous Badreshwar Temple. It is also famous by the name of Nanda Devi Ramlee." Source Times of India
Read in Hindi about Kumaon ki Ram Lila Tradition , to see Video 4.46 minutes on Ram Laxman Samvad
8. Ramnagar, Kashi ki Ram Lila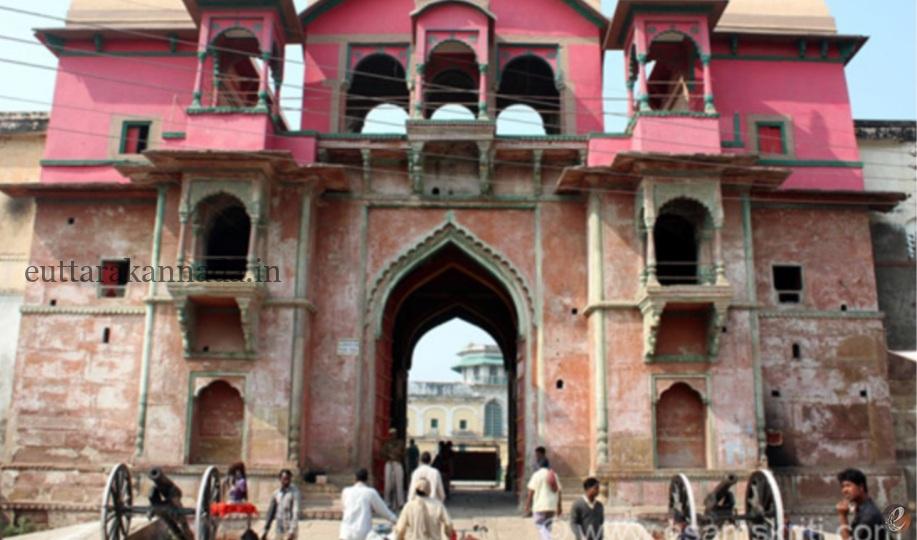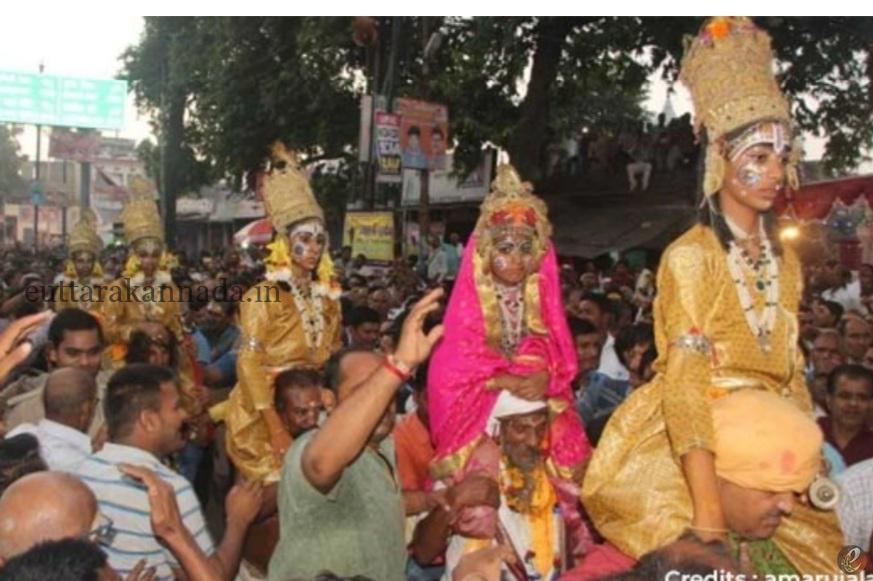 Ramnagar is across the Ganga in Kashi. There is a fort and palace there.
"It is believed that the great saint Tulsidas started the tradition of Ram Lila, the enactment of the story of Lord Ram. The Ramcharitamanas, written by him, forms the basis of Ram Lila performances till today. The Ramnagar Ram Leela (at Varanasi) is enacted in the most traditional style. This special Ram Leela of Ramnagar lasts for almost one month. Ram Leela of Ramnagar was started in the first quarter of the nineteenth century by the then Maharaja of Benaras, Udit Narayan Singh. Hundreds of Sadhus called the 'Ramayanis' come to watch and recite the Ramayana. Here, almost the whole town is transformed into a vast Ram Leela ground as permanent structures are built and spaces designated to represent the main locations of the story. Thus, we have Ashok Vatika, Lanka etc at different locations in the town. The audience moves along with the performers with every episode, to the next location." Source Varanasicity.com and here
Also read
1. Why the Ramanagar Ramlila has an important place in India's Art History
2. Ramnagar Ramlila is a cultural extravaganza
3. Tradition of Ram Lilas and Ram Kathas
4. Ramlila – Traditional Indian Performance of Ramayana
ಕೃಪೆ: http://esamskriti.com